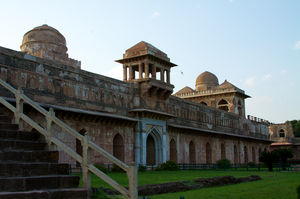 Best time to visit
8:00 AM – 11:00 AM
Open hours
palace tour, relax in the garden around, dig into the typical Delhi breakfast delicacies of Jalebi and puri. Beware of pickpockets as the area gets very crowded at times. The nearest metro station is the Chhatarpur Metro station
Rank
159 out of 370 attractions in New Delhi
Jahaz Mahal
Located at the end of the famous Mehrauli Area of New Delhi and just beside the Hauz-i-Khas is the Jahaz Mahal. the beautiful palace was named so as the reflection of it resembled the structure of a ship when seen in the reservoir opposite it. It is known to have been built during the Lodi rule around 1451- 1526 AD. The purpose of this architectural beauty is still unclear but according to sources it was either an inn for travelers from Middle and Far East or a leisure destination for the Mughal Rulers. Among the most remarkable features are the cenotaphs, tile work and blue tiling details on the walls of the palace. A part of the palace is now in ruins given repeated attacks and trials of encroachment. Whatever remains also makes nothing less than a perfect example of Islamic art and minute detailing. The intricate designs on the walls can leave any tourist in awe. The palace is surrounded by a very nice garden with lush green grass.
Places to stay near
Jahaz Mahal
Jugaad Hostels PrivateRoom-SouthDel
Reviews of
Jahaz Mahal
•
1
This was built by Lodi dynasty, the mahal was built almost 200 years after the reservoir but completely gels in with the surroundings. Constructed to serve as an inn (sarai) for travelers and pilgrims. Jahaz Mahal is the venue of the annual colorful festival of the Phool Walon Ki Sair (means a procession of the florists) or Sair-i-Gulfaroshan held in October every year. It is a potential place for photography and history enthusiasts.
Attractions near
Jahaz Mahal