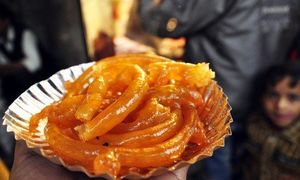 Best time to visit
11:00 AM – 7:00 PM
Open hours
10:00 AM – 9:00 PM
Jalebiwala
The Jalebi Walas are here in the same place for decades now and there are only two things that they have been selling since it had begun business- samosas and jalebis. Both of this mouth watering items are made in pure ghee and will force you to break all diet charts. Do not expect a sitting arrangement here. the way of ordering here is by standing on the pavement an yelling out your order. The cleanliness, service and quality of food is ace.
Places to stay near
Jalebiwala
Pearl Premium Luxury Homes
Superior Double AC With Breakfast
Stay in a true Delhi neighbourhood
Reviews of
Jalebiwala
•
1
This place is famous for its spiral-shaped sugary and fried dough called jalebi. The jalebis are large, hot and crispy.
Attractions near
Jalebiwala