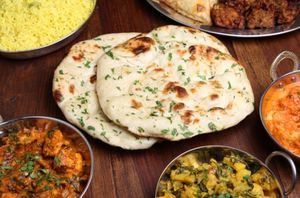 Best time to visit
Best Time to Visit: 11:00 AM – 8:00 PM 10:00 AM – 11:00 PM
Things to do
Try out the variety of stuffed naans and paranthas, dal makhani and the Patiala glass of lassi to wash it off. More details: The nearest metro station is the Chandni Chowk Metro Station.
Kake Di Hatti Punjabi Khana
This is a typical street food outlet in the Chandni Chowk area though they sell more than just street food. You should not go by the look of this place as they have decent sitting places on both the floors which looks claustrophobic from outside. The food is just more than awesome in terms of both quantity and quality and the prices are so pocket friendly. You can come here whenever you want and get the same taste and standard. They therefore serve Punjabi Dhaba food at its best.
Places to stay near
Kake Di Hatti Punjabi Khana
Superior Double AC With Breakfast
Bnb room 4 near metro and airport
Stay in a true Delhi neighbourhood
Reviews of
Kake Di Hatti Punjabi Khana
•
1
Kaake di Hatti is famous for its delicious punjabi khaana, especially Naan and subzi with Daal Makhani.
Attractions near
Kake Di Hatti Punjabi Khana