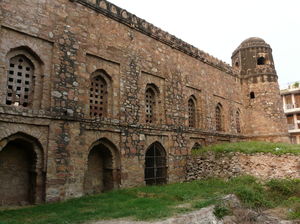 Best time to visit
8:00 AM – 11:00 AM
Things to do
Explore the essence of history.
Rank
133 out of 370 attractions in New Delhi
Khirki Masjid
This is an offbeat mosque that stands out from all its counterparts of that era. The mosque was built by the Prime Minister of Ferozeshah Tughlaq named, Khan-i-Jahan Junaan Telangani. The mosque that is now a symbol of loneliness and ignorance is a fine blend of Hindu and Islamic architecture. Unlike other mosques that have a single courtyard, this is divided into four small courtyards, each having a design different from the other. The lattice and calligraphy work is admirable and the sight of children using the green area for playing is a blissful sight. The building is almost in crumbles at present. The main reasons are lack of restoration and the scarcity of sunlight penetrating inside.
Places to stay near
Khirki Masjid
A/C Private Room + Living + Kitchen
Quiet comfort in green surroundings
Safe & Cosy B&B near City Centre
Reviews of
Khirki Masjid
•
1
The architecture of this place is beautiful and it is a great place for photo-shoots as well. The structure is vast and has an array of hundreds of pillars orderly aligned is a treat to watch. Even in the summer heat we found to be windy and calm. it just soothes one's senses. It is a brilliant place to spend time and be at peace. The view around is so contrasting. Here stands on a 14th century structure, looking at the biggest mall of Delhi right in front of you!! It's so ironic, and yet it's legacy never ceases to amaze!
Attractions near
Khirki Masjid