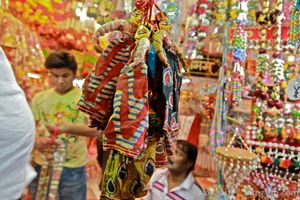 Best time to visit
11:00 AM – 4:00 PM
Open hours
The market remains closed on Sundays. Avoid this place during rainy season.
Things to do
Shop and eat More details: The nearest metro station is the Chandni chowk. Expertise in the art of bargaining is needed before ou shop here.
Kinari Bazar
This is a specialized market in the Chandni Chowk area. This is a place to be visited for festival or any other preparation for an occasion or function. Be it a puja, marriage or a festival, you get everything out here. Starting from wedding attires for the whole family to garlands, sehras, jewelry and accessories you name it and you get it in this place. They also have shops where you get designer costumes for rent. This market was set up during the Mughal Era and since then specializes in the same field. There are also a number of restaurants here to put off the fire in your belly after a shopping spree.
Places to stay near
Kinari Bazar
Superior Double AC With Breakfast
Stay in a true Delhi neighbourhood
Reviews of
Kinari Bazar
•
1
Now Kinara means border. Kinari Bazaar gives your just that - millions and millions of embellishments and borders to decorate your beautiful dresses, gowns and lehengas - in all hues and colors, all sizes and shapes, all price ranges. Don't be surprised if you see moonstruck ladies (even men, why not!) running from shop to shop, unable to decide what to choose from the limitless possibilities on display here. Treat yourself to some intricate work, something you will not even find with a high profile designer. Even the famous fashion designers come here for an idea-burst, so be sure to get some great designs for you to take back home.
Attractions near
Kinari Bazar