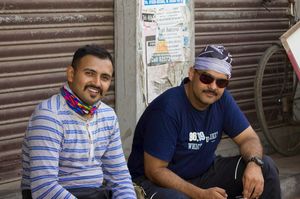 Best time to visit
Across The Year
Things to do
City Tours, Walk
Mahipalpur
Mahipalpur is a part od South West Delhi. Its one of the historical part of Delhi was established by 18th ruler of Delhi, Raja Mahipal Tomar. Its nearby IGI Airport and Chhatarpur Metro station is nearest metro station.
Places to stay near
Mahipalpur
OYO 518 Hotel Sundeep Inn
Reviews of
Mahipalpur
•
1
Day0 - Hello All! (24th June, Mahipalpur-Delhi) It was the day when all riders had assembled at the Modesty Palace Hotel, Mahipalpur for the briefing session. The introductory session started with Manu introducing the core members & informing all the riders about the key points for a safe ride, way of riding, dos & don'ts etc. One of the important rules of the ride was, that no one being allowed to ride under the influence of alcohol/drugs & it was clear from Day 0, to which everyone adhered with. It was an august gathering of all riders from various spheres of life & having one common thread binding everyone- Riding their RE machines to Ladakh! It was amazing to see the passion of the riders who had come down from various parts of the country including Chandigarh, Faridkot, Panipat, Gwalior, Varanasi, Mumbai, Nagpur, Baroda, Ranchi, Hyderabad & Vizag. There were a few who had bought their bike just to join this ride & some even had come on a ride for the very first time. I was not the only one there, some like me, had quit their current job to accomplish this dream ride. Hope they too had a backup option. I had met some of the riders Maneesh, Tarun, Anuj earlier during a warm-up/breakfast ride to Murthal & went on to be close buddies forming our 'foursome' group and having awesome time together. It was amazing to see the enthusiasm among the riders, be it the youngest rider of 23 years old or Shivaraju, who is just 50 years 'young'. In fact he was one of the most active riders of the lot who is a trained para glider & avid trekker. The group had a good mix of professionals working in public & private sectors, govt employees, bank employees, engineers, defence personnel, railways employee, chefs, entrepreneurs etc. who were ready to shed the comfort of their respective air conditioned offices & face the gruelling conditions en route. Also, this ride was going to be a test of our patience, perseverance, ability to adapt & accept situations. It was Day0 & extraordinary events were expected to occur. Pardeep stuck his feet in his new RE boots & was helplessly reaching out to every rider as he was unable to off his shoes. Finally I & 'Pahalwaan' Varun had to put in all our strength to pull them out to bring him relief. Another rider Rahul who woke up that evening to discover that his bike was not functioning well & 'missing' beats was seen tensed as he was trying sort out the problem. He was directed to Kaytee workshop where the accompanying mechanic Rajinder managed to resolve the issue. 'Missing' Rahul appeared to be less than happy entire the ride as his bike was demanding some or other maintenance almost every day. To avoid such hassles fortunately RB had organised free check-up camps which most of us had availed to ensure that we have a trouble-free ride. Unfortunately riders who had missed attending the ride were the once who majorly faced issues. It was a basic duty of the rider to ensure that their machines are ride-fit & those who missed a thorough check-up, did it at their own peril. After the formal introductory round & exchanging pleasantries, riders had their dinner & were ready for the D-day when they kick-start the ride to Paradise. Four of us- Manu 'sardaar', Varun 'pahalwaan' Nishant 'orange cap' & myself went to KT to get the flex banners fixed on the back-up truck which was carrying the spares, our luggage, mechanic & lot more. It took some time to get that fixed after which we rushed back to be on our beds by 11.30pm as the wake-up call was at 4.30am & I did not want to be left back on first day itself.
Attractions near
Mahipalpur