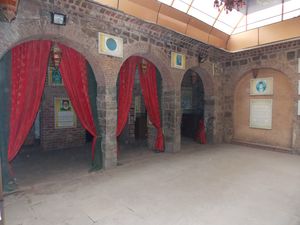 Best time to visit
10:00 AM – 6:00 PM
Open hours
6:00 AM – 6:00 PM
Things to do
Go through the works of the maestro. You can also visit the nearby attractions of Salimgarh Fort, Jama Masji, Dara Shikoh Library and many more. The nearest metro station is the New Delhi Main. There are a number of restaurants just nearby so an afternoon spent here will also be gastronomically entertaining. The nearby old shopping destinations are also worth visiting.
Rank
215 out of 370 attractions in New Delhi
Mirza Ghalib Ki Haveli
Mirza Ghalib was a very famous classical Urdu and Persian poet of India. The Mirza Ghalib's Haveli that we can see now is where he had spent the better part of his life. He had named this haveli, "Hakimo ki Haveli". It was almost in ruins a decade back and started being used as shops but, the Delhi government restored a part of it in 1999 and made a memorial here. This was inaugurated in the year 2000. The charm of the Chandni Chowk lanes increases with such an important place in here. The museum mostly houses selected pieces of poetries by Ghalib himself. Here you will also find letters penned down by the legend himself, his photographs, etc. The most important photograph is the last one that was clicked just a few days before his death. Another part of the haveli has been restored with great care to give it back its original grandeur.
Places to stay near
Mirza Ghalib Ki Haveli
Superior Double AC With Breakfast
Bnb room 4 near metro and airport
Optimum Palm D'or @ New Delhi Railway station
goStops Delhi (Stops Hostel Delhi)
Reviews of
Mirza Ghalib Ki Haveli
•
4
Attractions near
Mirza Ghalib Ki Haveli