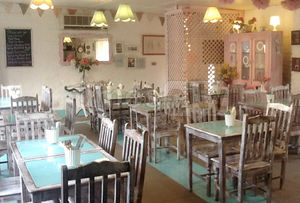 Best time to visit
2:00 PM – 5:00 PM
Open hours
12:00 PM – 9:00 PM
Things to do
Brunch or Lunch outlet
Rose Cafe
You can almost give this awesome café a miss given its tucked in location. This is a must visit on your way to or back from the Garden of 5 Senses. The ambience of this café cum restaurant is very cozy and comfortable. The staff and owners are warm and extremely friendly. The look of the place is absolutely like an Italian village café and the outdoor dining is more eye- catching. They have a restricted menu but the dishes are well chosen. The quantity of food served is standard and the taste is to vouch for. The special mention should be of the pizza and the cold beverages. You also get Lebanese food out here.
Places to stay near
Rose Cafe
Arty retreat in leafy South Delhi/1
The Hosteller Saket Delhi
Reviews of
Rose Cafe
•
2
You cant have a round up of the best breakfast joints in the city and not mention the queen of the all things sweet and comfort foods–Rose Cafe. This pretty Victorian cafe is no stranger to the Breakfast scene in Delhi and is definitely one of the best places to go for waffles or an English breakfast at any time of the day.
Rose Cafe, Saket! After Chattarpur's lesser-known cafe one of the cheap places to eat in Delhi, French affair closed down, it was hard to find something as homely and for the lack of better term, enchantingly Victorian. Everything about this place is quite rosy; a cafe with a countryside decor away from the hustle-bustle of the mall rats and big multiplexes is precisely designed to complement the surrounding hues of nature's beauty.
Attractions near
Rose Cafe