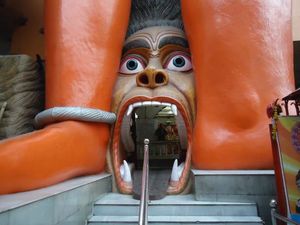 Best time to visit
7:00 AM – 7:00 PM
Open hours
5:00 AM – 1:00 PM and 3:00 PM – 11:00 PM. Open whole day on Tuesdays and Saturdays.
Things to do
Worshipping More details: No photography allowed inside. The nearest metro station is the Connaught Place Metro Station.
Sankat Mochan Hanuman Mandir
This temple is one of the oldest temples in India and was built by Maharaja Jai Singh in 1724. The specialty of this temple is that the symbol on the top of it is not of a conventional swastika or OM instead it is of a crescent moon which is actually an Islamic symbol and is said to have saved the temple from being demolished during Mughal attacks. The main deity of this temple is a south facing statue of Lord Hanumana with a gada in one hand and the other on his chest highlighting the image of Rama, Lakshmana and Sita. The ceiling of the temple is decorated with frescoes depicting parts of the Ramayana. The main festival celebrated here is the Hanumana Jayanti. Saturdays and Tuesdays experience a footfall of thousands of devotees.
Places to stay near
Sankat Mochan Hanuman Mandir
Stay in a true Delhi neighbourhood
goStops Delhi (Stops Hostel Delhi)
The Prime Balaji Deluxe @ New Delhi Railway Station
Reviews of
Sankat Mochan Hanuman Mandir
•
2
The walk began with a visit to the famous Hanuman Temple of Jhandewalan (located right next to Jhandewalan Metro station), which has this huge statue of god Hanuman and is on the most visually interesting & iconic landmarks of the Delhi Metro. There is very interesting feature of the statue; the statue was apparently being built for a period of 35 years and construction was stalled in between till lack of funds, so for a long time the statue was only built till lower torso level and then construction restarted, however, the temple committee realized that the metro line was also coming up adjacent and the direction Hanuman Ji would face would not look nice. So they decided to turn the upper torse sideways, giving it the iconic visual landmark it is today. However, if one stands at the foot of the temple and sees it from feet up, one realizes what an uncomfortable position Hanuman ji is standing in, with legs straight and upper torso sideways, like a very complex Yoga Posture!Inside the Jhandewalan hanuman temple, which had many interesting features, such as a subterranean cave housing many forms of Shakti – Chhinamasta, Vaishno Devi and many more.
If not only for the Deity worshiping rituals, you will remember this place with alot of monkeys around and the tasty 'prasaad' of laddoo and roasted chanaa. Evening are peaceful here with soulful bhajan and kirtans going on.
Attractions near
Sankat Mochan Hanuman Mandir