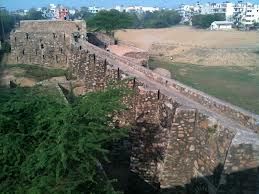 Best time to visit
8:00 AM – 11:00 AM
Things to do
Sightseeing The nearest metro station is the Malviya Nagar Metro Station.
Rank
264 out of 370 attractions in New Delhi
Satpula
Satpula or the Seven Arches Dam is otherwise unnoticed by all passersby and tourists till you inquire about a nearby water body here. The beautiful area is often mistaken as a bridge or simply a lake. The main thing that pleases everyone here is the surrounding greenery due to the bushes around. The place is perfect for some quite time away from the bustling city. The view from the top is wonderful and you will have to jump above the small gates to reach the actual area. The Seven arches bridge was built by Emperor Muhammad-bin- Tughlaq and the arches are still clearly visible. The walls and structures of the dam and gates are much in ruins due to time and natural forces but it still manages to portray a clear picture of calmness, serenity and tranquility.
Places to stay near
Satpula
A/C Private Room + Living + Kitchen
Quiet comfort in green surroundings
Safe & Cosy B&B near City Centre
Reviews of
Satpula
•
1
This was a dam built around 1343 to aid irrigation facilities and provide a defense from enemy armies. Even after six centuries of wear and tear, there is no major damage in the structure. Apart from being a dam, this was also used for defense from enemies. You can notice tall towers on both banks which give you a feel of being watched. If you get down to the plain ground in front of the structure, you can see the seven openings that once functioned as the gates of the dam to let water out. This is a great hangout place and if you take a few friends along, you'll have an awesome time together !!