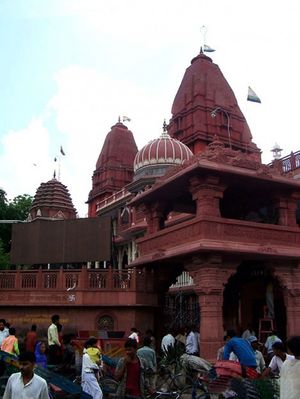 Best time to visit
7:00 AM – 7:00 PM
Things to do
Pray and worship no matter what religion you belong to.More details: The nearest metro station is the Chandni Chowk Metro station. Photography is allowed inside for free.
Traveller Types
Friends, Families
Rank
105 out of 370 attractions in New Delhi
Sri Digambar Jain Lal Mandir
This is also known as the lal Mandir and is the oldest Jain temple to have been built in Delhi. It is just opposite the Red Fort and was built in the 16th century during the reign of Emperor Shah Jahan. It is known that he once invited a number of Jain seths and requested them to settle down in the area. He also granted them some land and allowed them to build a temporary place to be known as their temple. After this they acquired three marble idols and placed them in the temple. The presiding deity is that of Tirthankar Parshvanatha.
Places to stay near
Sri Digambar Jain Lal Mandir
Superior Double AC With Breakfast
Stay in a true Delhi neighbourhood
bloomrooms @ New Delhi Railway Station
Reviews of
Sri Digambar Jain Lal Mandir
•
1
Directly across the Red fort stands the oldest Jain temple in India, the Sri Digambar Jain Lal Mandir built in 1656. It's often referred to as 'Lal Mandir' or the Red Temple. The temple is made of red sandstone and its interiors are adorned with beautiful carvings, pure gold artwork and paintwork. There is a devotional hall at the first floor of the temple. The temple complex also has a book store where a wide collection of Jainism literature is available. The temple is also famous for a unique bird medical center in its complex which is 'the bird's hospital' which is inspired by Lord Mahavir's message of 'Live and let live'. NOTE- Timings: 5am-9pm (open all days)
Attractions near
Sri Digambar Jain Lal Mandir