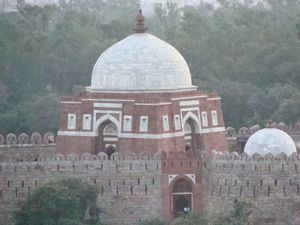 Best time to visit
9:00 AM – 11:00 AM
Open hours
5:30 AM – 7:00 PM
Things to do
Dig into the history of Old Delhi and Sultanate rule.
Budget
Rs 5 for Indians Rs 100 for foreigners
Rank
81 out of 370 attractions in New Delhi
Tughluqabad Fort
Presently the Mehrauli- Badarpur Road, it is a ruined fort that was once a dream of Emperor Ghiyas-ud-din- Tughlaq. He was the founder of the Tughlaq Dynasty and is known to have been a dictator by nature. It was his dream to set up a magnificent fort for himself but fate had something else in store. The fort was made for sure but the emperor could not enjoy his stay there. An old story says that when the fort was being made, the emperor had ordered all masons and workers to work only on this project and nowhere else. This forceful attitude was not liked by Nizamuddin Auliya, a Sufi saint of that time. He cursed the emperor that either the fort will remain unbuilt or will be inhabited by Gujjars. This is absolutely what happened as the Gujjars later took ownership of the fort and started living in that area. Another curse that is said to be the reason of death of the Emperor was when the saint said "Dilli Bohut Door". At this time Tughlaq was elsewhere and while returning, his son conspired a murder of his father. The mausoleum of the Emperor is also built here now.
Places to stay near
Tughluqabad Fort
New 2 Bed. Apart., 2 KM from Delhi
Reviews of
Tughluqabad Fort
•
3
2. Tughlaqabad Fort: This 6 km fort in Delhi is of much historic significance. Known for its architecture, the stone and rubble walls that are 10-15 metres high represent the typical monuments of the Tughlaq dynasty. The fort was complete with palaces, mosques and more structures. Although most of it lies in ruins with overgrown vegetation, one can admire its beauty divided into three parts: a wide city area, a citadel and royal residences with underground tower passages. Thirteen out of fifty two gates still remain today. Built by Ghazi Malik in 1321, on assuming the title of Ghias-ud-din Tughlaq, it was the beginning of the Tughlaq dynasty. At least half a day picnic here sounds like a good idea. The water reservoir at its Southern part was a vast one and remains connected to the fort even today.
Lying in isolation, this fort is in an extremely deplorable condition. It's crumbling, yet massive ramparts standing a silent witness to a change its builders could never have thought.
Attractions near
Tughluqabad Fort