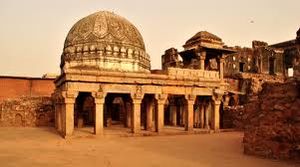 Best time to visit
11:00 AM – 2:00 PM
Open hours
Admire the detailed designs on the walls of the monument, try out the sweet shops around this building.
Traveller Types
Friends, Couples, Families
Rank
207 out of 370 attractions in New Delhi
Zafar Mahal
This is the last building built by the Mughals. It was started by Emperor Akhbar Shah II and was finished by the last Mughal emperor, Bahadur Shah Zafar, who also gave it the present name of Zafar Mahal. The building was in the memory of the sufi saint Bhaktiyar Kaki, a descendent of the famous Saint Moinuddin Chisti. Apart from the Zafar Mahal, a number of other monuments were built in the honor of Khwaja Bhaktiyar kaki. This building was earlier known as Rang Mahal and was a single storey structure. The Hathi Gate, Moti Masjid and Chhattri were later added to renovate and beautify the structure and give it some height. The famous festival or the annual procession known as Phulon ki Sair also starts from here and is a festival that had long ago been started by the Khawja himself as a protest of the British festivals. The naubat Khana and graves of the royal family are also put up in a beautiful manner here.
Places to stay near
Zafar Mahal
Arty retreat in leafy South Delhi/1
Reviews of
Zafar Mahal
•
1
Zaffar Mahal is a palace that was built by Akbar Shah II in 18th century. Then it was called Lal Mahal or Rang Mahal. Later, Bahadur Shah Zafar II renovated it and it was renamed to Zaffar Mahal. This place is great for photography and hanging out. But beware of the collapsible roofs. The structure is one of the last to be built by Mughals, yet is the first one to collapse!
Attractions near
Zafar Mahal