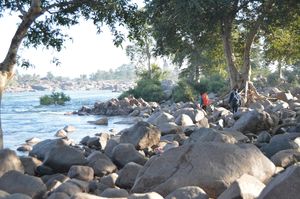 Things to do
Rafting, Fishing
Traveller Types
Couples, Friends
Rank
11 out of 15 attractions in Orchha
Betwa River
The Betwa or Betravati is a tributary of Yamuna. It is the lifeline of Orchha, flowing along the town, providing livelihood to man and animal both. Traversing a distance of 654 km from near Bhopal (MP) till its confluence with Yamuna near Hamirpur (UP), the river is a lifeline for both the states. Betwa is also mentioned in the Mahabharata as river Shuktimati along which the immense Chedi kingdom rests. UP Govt. took up the Betwa multipurpurpose project in 1958, under which they built the Matatila dam in collaboration with the MP Govt. Today, as a river linking project, Betwa is being merged with Ken river.
Places to stay near
Betwa River
Reviews of
Betwa River
•
3
These are some pics of Fort I think this explains everything that the beauty lies in this place...After roaming around we enquire about light and music show timing and as the show timing is lil late so we have time to visit Betwa River which is also nearby you can take a walk
Hault at the open bridge at Betwa river I was walking cautiously on this small, fenceless but strong road over the Betwa river where all humans are going gaga to capture the mesmerising view of the river flowing under the bridge and sun to be drowned very soon. I managed to take a 360º video without messing around with any humans and vehicles.
We reached the Orchha in the morning and spending the early hours by the Betwa riverside seemed like a good plan. Right before us stood the mighty cenotaphs (chattris) of Orchha, the obvious first spot to visit in this town. Constructed by the Bundela kings in the 16th century, this is indeed an awe-inspiring structure that gives a certain look of grandeur to this town.
Attractions near
Betwa River