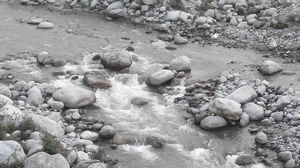 Things to do
Photography, camping, walking trails
Rank
5 out of 14 attractions in Palampur
Neugal Khad
A place of scenic beauty in the Palampur area, there are walking bridges, lakes and jungle parks in this area. The Saurabh Van Vihar is a major attraction here and this place is somewhat adventurous too. Come with a car only if you know how to drive well as the terrain is sloping. You can also enjoy some camping if you plan to stay here at night too.
Places to stay near
Neugal Khad
Holiday Apartment in Himachal
Reviews of
Neugal Khad
•
3
Neugal Khad is a wide stream of water that flows close to Palampur. Neugal Khad is a popular picnic destination situated about 3 to 4 kms from Palampur. The panoramic view of the Dhauladhar Range from Neugal Khad is commendable. The major attraction apart from the stream is the massive iron bridge. By walking on this bridge you feel the suspension, because the bridge is actually shaking in the air well it's a part of fun. Those interested in photography have the good opportunity to capture the beauty of this colossal bridge and the surrounding landscape. Apart from photography, walking along the pebbled path of Neugal Khad is ideal. We walk through the stream, throw some stone in the water. The sound of the musical stream was awesome. It's like just close your eyes or lie down. Yes mission accomplished first heaven of the day.
It's a small stream surrounded by the Dhauladhar range. Cross over the beautiful Iron bridge over Neugal Khad on your way to the Van and enjoy the view.
Attractions near
Neugal Khad