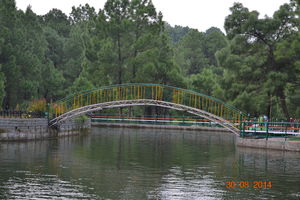 Things to do
bird- watching, photography
Rank
1 out of 14 attractions in Palampur
Saurabh Van Vihar
This is a nature park dedicated to the Captain of Indian army named Saurabh Kalla who lost his life in the year 1999 during the Kargil War. He is also said to have had to tolerate a lot of torture by the Pakistani army for over 20 days. The park is a symbol of honour for all the brave hearts who had to lay their lives in wars to protect their countries. This park is known for the lovely greenery, shady trees and a lot of variety in terms of flora and fauna. Bird Watching is also an important activity to be enjoyed in this park. Overall, this park is one of the most popular tourist attraction of Palampur.
Places to stay near
Saurabh Van Vihar
Holiday Apartment in Himachal
Reviews of
Saurabh Van Vihar
•
3
Saurabh Van Vihar is a beautiful park for some relaxed and enjoyable time amongst lush greenery, surrounded by sceneries and mountains. Spread in an area of 13 kms, Saurabh Van Vihar is a nature park that is dedicated to brave soldier of Indian Army Capt. Saurabh Kalia (martyr in the Kargil War). The park is situated on the bank of Neugel Khad. A perfect place for recreation, Saurabh Van Vihar is at a distance of about 4kms from Palampur. Overlooking the mighty Dhauladhar Range, the beauty of this nature park is enhanced with the different varieties of plants and trees. The park also shelters a sizable population of birds' species, which further adds to its charm. Boating, birdwatching and bouldering can be enjoyed in the park.
Saurabh Van Vihar is named after Captain Saurabh Kalia, who sacrificed his life during Kargil operation on 9th June, 1999. There are swings and a small artificial pond for boating inside the van.
Attractions near
Saurabh Van Vihar