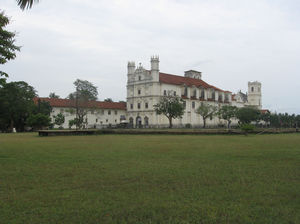 Best Months
September - May
Traveller Types
Couples, Families, Friends, Solo
Rank
11 out of 99 attractions in Panaji
Church of St. Francis of Assissi
Built in 1661 by the Portuguese, it is a church located in Velha Goa, a picturesque church, a must visit.
Places to stay near
Church of St. Francis of Assissi
The Fern Kadamba Hotel And Spa
OYO Rooms Facing Mandovi River Ribandar
Gomes Pousada Guest House
Reviews of
Church of St. Francis of Assissi
•
1
St. Francis of Assisi is a bit of an odd figure – he was a Catholic friar and he did a lot of good works, but he was never ordained to Catholic priesthood. But he has been canonised as a priest and a church has been built in his honour in Old Goa. He was a wealthy young man who liked a good time – the kind who'd like a vacation in Goa, in fact – until he got a vision and he lost his taste for decadence. Perhaps the oddest thing he did was attempt to convert the Sultan in Egypt to Christianity and stop the Crusades! He's also considered responsible for the idea of the nativity scene that we're all so used to around Christmas, so it's the perfect church to visit around the time. The church itself is quite beautiful, with panels that depict the life of the saint.
Attractions near
Church of St. Francis of Assissi