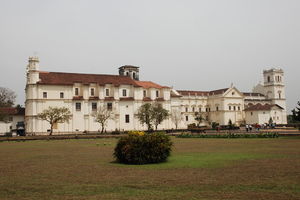 Best time to visit
10:00 AM - 3:00 PM
Open hours
Monday- Saturday- 9:30 AM - 5:30 PM, Sunday closed
Best Months
September - May
Traveller Types
Friends, Couples, Families, Solo
Rank
37 out of 99 attractions in Panaji
Goa State Museum
Also known as the State Archeology Musseum, this was built in the year 1977 and has a number of galleries inside. This is a simple place where you find exhibits on everything from archeology, art, craft and culture of this small state. There are even ain and Hindu bronze statues and many items of the Portuguese Era including furniture, coins, chariots, lottery machines and much more. The furniture portion is probably the most attractive out of all.
Places to stay near
Goa State Museum
Hospedaria Abrigo De Botelho
OLD QUARTER by thehostelcrowd
Reviews of
Goa State Museum
•
1
Located in the capital city of Goa, the famous Goa State Museum is one of the best attractions in the state which is highly popular in history enthusiastic and travel freaks. It has sculptures dating back to the 4th century and has 12 popular Galleries in it. The location, the history and the ethnicity makes it a must visit place in Goa for people who love art and inclined towards religious activities.
Attractions near
Goa State Museum