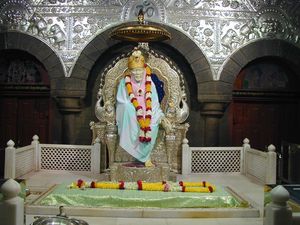 Best time to visit
6:00 AM - 6:00 PM
Open hours
4:15 AM - 8:00 PM
Shirdi Sai Baba Mandir
This temple is located in the Shirdi Village of Ahmednagar and was built over the samadhi of Sai Baba in the year 1922. Sai Baba was the beloved guru and teacher of many people irrespective of caste and religion and he preached and served his followers during the 18th and early 20th century. After that he decided to take samadhi in 1918. The whole temple is managed by the Sai Baba Sansthan Trust where hundreds of people work as devotees only and the organization serves thousands of needy people every month.
Reviews of
Shirdi Sai Baba Mandir
•
1
Sai Baba's real name, place of birth is unaccounted for. Sai Baba's millions of disciples and devotees believe that he performed many miracles like lighting lamps with water, curing the incurably sick, rising on the third day after his death, preventing a mosque from falling down on people, and helping followers in every way. However, it is a belief documented by the devotees and no full proof of such existence is accounted. Shirdi Sai Baba is one of the richest temples in India.
Attractions near
Shirdi Sai Baba Mandir