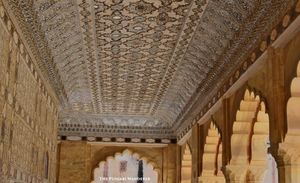 Things to do
history tours
Traveller Types
Families, Friends
Rank
9 out of 19 attractions in Patiala
Sheesh Mahal
Presently known as the Turkish Bath, it was not at all built for the purpose of being a Hammam. It was built by Emperor Shah Jahan as a Summer Palace which in English literally means the Glass Palace. This kind of mirror designing as a form of Byzantine art and the glass to make thgis palace was completely imported from Haleb in Turkey. The floors of this palace are made completely in marble and this is one of the remaining most beautiful parts of the Agra Fort. This is also the place where the emperor used to hold his extremely personal meetings in which only selected people were allowed to enter. There are mirror works on the walls, ceilings, windows and other places which look beautiful if candles are lighted inside. The stucco relief base with the mirrors in geometric, floral and other patterns look extremely beautiful.
Places to stay near
Sheesh Mahal
STARiHOTELS Rajpura Colony Patiala
Hotel Gurumehar Residency
Reviews of
Sheesh Mahal
•
2
Maharaja Narinder Singh built Sheesh Mahal in 1847. The design and the decoration of the palace was chosen by Maharaja Narinder Singh to a large extent. One section of Sheesh Mahal is decorated with colored glass and mirror work and it is also known as 'Palace of Mirrors'. It is situated behind the Moti Bagh Palace. It is a triple storey building. There is a bridge across the artificial lake in the centre of the palace. This bridge is known as Lakshman Jhoola. There are gardens and fountains on the sides of the lake. Sheesh Mahal was the residential palace of Maharajas of Patiala. To give the artistic look on the walls and ceilings of the Sheesh Mahal, Maharaja Narinder Singh engaged artistic painters from Rajasthan and Kangra. The artist made the floral designs on the walls and ceilings. Their art depict the vision of Bihari, Surdas and Keshav in the poetic form and in colors. The paintings of these artists show the very old stories in the style of Rajasthan.
Where: PatialaBuilt by Punjab's most famous patron of arts, Maharaja Narinder Singh, Sheesh Mahal is known for its impressive collection of artefacts from all over the world. Sheesh Mahal is part of the Qila Mubarak complex and also serves as a museum, giving a glimpse into the world of Punjab royalty in the 19th century.Lodhi FortWhere: LudhianaLocated on the banks of Sutlej, the Lodhi Fort was built 500-years ago by the Mughal emperor Sikander Lodhi. Now, the fort stands in ruins, but still gets visited regularly by history enthusiasts. To reach Lodhi Fort, just take an auto from wherever you are in Ludhiana. Traffic can get really bad in the city, so driving is not recommended.
Attractions near
Sheesh Mahal