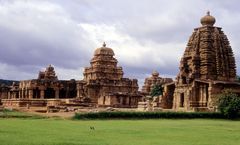 Things to do
site- seeing, photography
Traveller Types
Friends, Couples, Families
Rank
5 out of 7 attractions in Pattadakal
Jain Temple Pattadakal
This is a ruined, World Heritage Site as declred by the UNESCO. It is situated on the left banks of the River Malaprabha and is in the District Bagalkot. Another name for this place is Pattadakalu and this is a very popular tourist attraction. This place was ruled by the Chalukya Dynasty and this was the Golden Era for this town. This was when art and cultured flourished here like never again and here evolved a fine blend of the South and North Indian forms of Art. They built as many as 9 Hindu Temples and then 1 Jain Temple. The best among all is the Virupaksha Temple which was a gift of honour by Queen Lokamahadevi to her husband to mark his victory over the kings of Southern India.
Reviews of
Jain Temple Pattadakal
•
1
At Pattadakal, when the Chalukya kings were crowned, in the middle of the 7th century, temple building activity shifted from Badami to Pattadakal. There are ten temples here, four are in Nagara (Northern, Indo-Aryan) style and six are in Dravidian style. The largest of all the temples in Pattadakal is Virupaksha temple. There are numerous Kannada language inscriptions at Pattadakal. Tip: Hire a guide. It's worth knowing the history of the temples and the architecture.
Attractions near
Jain Temple Pattadakal