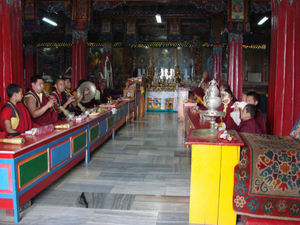 Best time to visit
September to March
Things to do
Koktang, Kumbhakaran (Jannu), Rathong, Kabru, Kabru Dome, Kanchenjunga, Pandim, Siniolchu
Traveller Types
Families, Friends, Couples
Rank
7 out of 9 attractions in Pelling
Sangacholing Monastery
Pelling is approximately 130 km far from Siliguri and 115 km from Gangtok, the capital of Sikkim, and is very well connected by transport and jeep services. The lovely little town of Pelling is popular for magnificient views of the snow-topped Kanchenjunga range, the third most elevated crest in the world.The Placid town pulls a large portion of the guests for its representative status in history, and nature of the state of Sikkim. Situated at a height of 6,800 ft, Pelling offers great perspective of the whole Kanchenjunga mountain reach including Koktang, Kumbhakaran , Rathong, Kanchenjunga, Pandim, Siniolchu and many more. This is as close as you can get to the Kanchenjunga range without leaving the material solace of good lodgings. Because of its worthwhile area, numerous hotels and cabins have come up in and around Pelling taking into account shifted tastes and budgets. Also the climate in Pelling may change from bright and sunny to blurred and miserable in a matter of minutes.
Places to stay near
Sangacholing Monastery
Mystic Nirvana Residency At Pelling
Reviews of
Sangacholing Monastery
•
1
The next morning, we set out in search of the SangaCholing Monastery heading up the mountain. The ascent brought us past forests, green farmland and remote villages in the valleys below, and finally up through the mist to the tiny monastery perched up in the clouds. The view was dramatic amid the fluttering prayer flags and the monks, all dressed in sweatpants and T-shirts were friendly, making up for the undistinguished little temple. We were invited over and over again to join them in their Puja the following day, but that climb isn't something we wanted to repeat.
Attractions near
Sangacholing Monastery