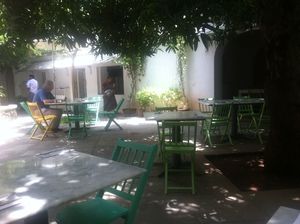 La Maison Rose
Not a very good place if you are in search of authentic French food but if you are just in for some nice taste and fusion of flavours you will find this place nice. They are nice, little shop with not many seating options also but whoever have come here have been really happy with the service. besides, there is no harm in tasting Indianized French food.
Places to stay near
La Maison Rose
FabHotel Esparan Heritage
Reviews of
La Maison Rose
•
1
The place is casual, and all lit up at night. Ambience is Romantic & Charming We visited the place for dinner on day 2. We ordered non veg and drinks, I loved the food. The crowd was good and the service, I thought was fine.
Attractions near
La Maison Rose