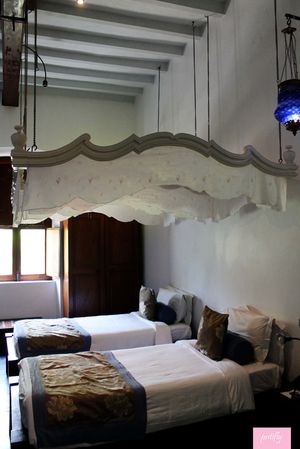 Le Dupleix
This is a Dupleix Hotel and an awesome place in the White Town Area of Pondicherry. This is an old house which is now turned into an iconic hotel. The all white French style villa is now a popular restaurant cum hotel. They are situated very close to the Bay of Bengal Shores, the leafy park and also the main market of the region. They serve great French food which is delicious and authentic. You will find a huge crowd of foreigners over here all the time mainly because they find the authentic taste only over here. The ambience and service of this place also very good.
Places to stay near
Le Dupleix
NEW House of Blue Mangoes
A quiet room in the heart of town
Exotic cabin surtounded by greenery
Reviews of
Le Dupleix
•
3
Pondicherry is full of dainty cafes , bakeries and some heritage restaurants offering a fusion of French-Tamil cuisine. Cafe des Arts is a beautiful place to sit all day and sip coffee but they serve average food. Coromandel Cafe & Hotel Le Dupleix both serve some amazing dishes and have a beautiful ambience. Also, Tanto in Auroville should definitely be on your list ;it's not a place to be missed. If party is what you are looking for, head to The Storytellers Bar in Promenade Hotel.
Le dupliex is located close to the beach. It is a reconstructed villa and has 8 rooms only all designed differently. The restaurant serves some of the best Italian I've ever had..
Attractions near
Le Dupleix