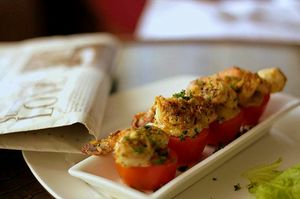 Le Hidesign Cafe
This is among the collections of the top things to do in Pondicherry and is a 2- storey place. The top floor has an open air seating and you can enjoy tapas and awesome coffee over here. One the ground floor you get very good French food and Italian food and the quality of food is recommended by every single person who has been here. The prices are a bit on the higher side but what you get is an absolute value for money.
Places to stay near
Le Hidesign Cafe
NEW House of Blue Mangoes
A quiet room in the heart of town
Exotic cabin surtounded by greenery
Reviews of
Le Hidesign Cafe
•
1
Hidesign cafe is one of the best eat outs in Pondy. This cafe serves the best daiquiris-frozen/ chilled/ salted, and the sides are soo yummy you wouldn't stop with one order. The best part is that the prices are reasonable and the place itself is so cozy, you could spend time reading a book, watching tv or simply reading its unique menu-which is in the form of a newspaper. Dont miss the curried mayonnaise prawns in tomato cups. Its the best.
Attractions near
Le Hidesign Cafe