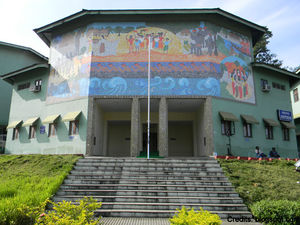 Best time to visit
10:00 AM - 2:00 PM
Open hours
Tuesday- Sunday- 9:00 AM - 1:00 PM and 1:30 PM - 4:30 PM
Budget
admission- INR 10, Camera- INR 5
Best Months
September - May
Traveller Types
Families, Couples
Rank
10 out of 36 attractions in Port Blair
Anthropological Museum
A lovely museum, this works with the aim of conserving the tribal culture and heritage of the islands. Also, they have different sections for different types and the most attractive is that of the Jarawas. The simple décor of the place might not seem to be very attractive but the way they work shows how passionate they are about their place and do love their heritage.
Places to stay near
Anthropological Museum
Reviews of
Anthropological Museum
•
3
The museum gives the details about the many tribes of Andaman and Nicobar Island.
If you are keen to learn more about the tribes without the hazard of arrows whizzing past, visit the Anthropological Museum. It isn't exactly state-of-the-art, but what it lacks in design, it makes up for in character.
This displays facts about the local tribes of the region. The museum was established in the year 1975. It is a one of its kind museum that displays facts about the four Negroid tribes of the Andaman Islands and two Mongloid tribes of the Nicobar Islands.
Attractions near
Anthropological Museum