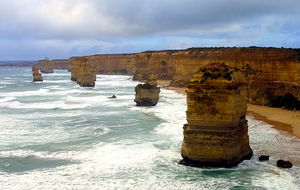 Port Campbell National Park
Campbell Bay National Park is a national park in India, located on the island of Great Nicobar, the largest of the Nicobar Islands in the eastern Indian Ocean some 190 km to the north of Sumatra. It was gazetted as a national park of India in 1992, and forms part of the Great Nicobar Biosphere Reserve. The park has an approximate area of some 426 km², and is separated from the smaller Galathea National Park by a 12-km wide forest buffer zone.
Places to stay near
Port Campbell National Park
Twelve Apostles Motel & Country Retreat
Reviews of
Port Campbell National Park
•
2
The 'first Apostle' can be seen from Gibson Steps, where you can also descend down to the beach. The Twelve Apostles Visitors Facility is just another 3 min drive down where you can walk to the lookout point to see the rest of the wave-sculpted limestone formations.
Touring across Australia has never stopped to marvel me with its numerous seen and unseen wonders. But what's the most amazing, specially as we toured across the Great Ocean Road and Port Campbell National Park, were the 12 Apostles! A wonder still hidden from much of the world, we saw it while touring across the Great Ocean Road by air on a helicopter. While the majestic Grampians and Victorian flora and fauna are truly picturesque too, we just couldn't get enough of our tour of the 12 Apostles and extended it, going further towards Philip Islands. Like it is said, the 12 Apostles are truly a pilgrimage, "paying dawn and dusk homage" at the "Wild heart" of Australia's Great Ocean Road! HOW TO GET THERE: The 12 Apostles are located 275 km west of Melbourne, approximately a four-hour drive along the Great Ocean Road. While you can reach there by coast, a day's tour in a helicopter gave us the best experience!
Attractions near
Port Campbell National Park