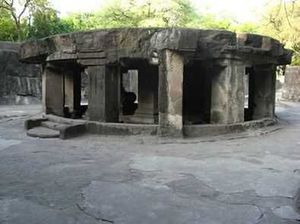 Best time to visit
10:00 AM - 3:00 PM
Open hours
8:30 AM - 5:30 PM
Things to do
Worship, history tours, museum tours, photography
Best Months
June - February
Traveller Types
Families, Friends, Solo, Couples
Rank
22 out of 246 attractions in Pune
Pataleshwar Cave Temple
Erected just across the river near the Jungli Maharaj Road, the Cave Temples of Pataleshwar have a resemblance to the rock carvings of Ellora. The Shiva Temple here is the main feature of the caves. The statue of the Nandi bull is also famous here. The temple is said to have been built out of a single rock and also has round rock structures arranged in an exotic manner here. In the other temples of these caves you will find the idols of Rama, Sita and other gods and goddesses. There is also a nice seating arrnagement for visitors inside. Another important attraction here is the museum which has its name in the Guiness World Record Book because of that one grain of rice inside this museum. This grain of rice has 5000 characters inscribed on it.
Places to stay near
Pataleshwar Cave Temple
FabHotel Gandharva Shivajinagar
Reviews of
Pataleshwar Cave Temple
•
1
1) Pataleshwar cave:Its beautiful and peaceful place in Pune you can see the temple which was made around 18th century.Lord Shiva lovers have to visit this place once.History and details of Cave:Pataleshwar Cave Temple (likewise called Panchaleshvara or Bamburde) is a stone cut surrender sanctuary, cut out in the eighth century in the Rashtrakuta period.The sanctuary, made of basalt shake, is devoted to the Hindu Lord Shiva. The sanctuary - a 3D square molded room around 3– 4 meters on each side - houses a linga - the image of Shiva and there are two littler cells on each side. Before the surrender is a roundabout Nandi mandapa, its umbrella formed shade bolstered by enormous square columns. This mandapa is one of the particular structures of Pataleshwar. The buckle(Cave) is situated at a lower level than the present level of the street and the surrender complex. There is a perfectly cut roundabout Nandi place of worship in the gigantic yard of the give in. The fundamental give in is rectangular on design and has a pillared patio. There are three sanctums in the give in sanctuary and the focal one houses the Shivalinga. There is a circumambulation way gave in the buckle where one can see the incomplete piece of the give in sanctuary. It creates the impression that in the wake of completing the front and the sanctum the surrender was left fragmented because of a few reasons, one of which could be the issues in the stone. Anyway the dividers in the fundamental buckle have a few frameworks drawn proposing the figures delineating stories from Indian folklore, particularly including Shiva.Time Taken To visit: 30 minAfter starting your day with Lord Shiva Prayer we will go to the next destination which is not so far from this place that is around 4.5 KM so it will took 15 min to reach here so you will reach there around 9:15A.M.
Attractions near
Pataleshwar Cave Temple