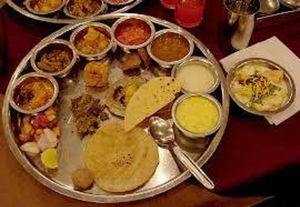 Places to stay near
Sukanta Thali
Tastefully down rooms for rent
Private Room near Osho resort
Oasis of trees and tranquility.
Cozy & Comfortable single room
Reviews of
Sukanta Thali
•
1
I have been to Rajdhanis, Choki dhani, Nakhrali Dhani, Bhagat Tarachands and alot of places which serves Rajisthani Food, but Sukanta is typically better than all of them. Its Rajisthani to the Core !! I had heard a lot about this place for its food and service and had thought how different can it be from above mentioned usual Rajasthani Thali restaurants! The answer is the food!! Everything in Sukanta is nuanced and very different, the waiters, the chairs, the wall carvings and the way they serve. The service is very fast and servers are polite and respectful.They start with serving khus sharbat.. exhilarating!! Moved on to daal bhati/rotis and servings of four sabzis - bhindi, paneer, gatte ki sabzi and spinach......and list goes on... and and and If you are a foody and if you sit along with Sukanta's thali, you may fall in love with this place, this city, this world.
Attractions near
Sukanta Thali