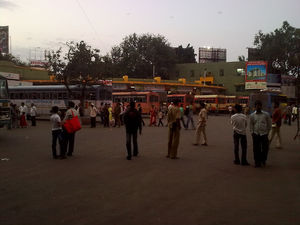 Things to do
Transportation
Swargate ST Stand
This is a twin bus station in the Swargate region of Pune and is just opposite to the Swargate Police station. This is directly operated by the Maharashtra State Transport Corporation. It is estimated that around 18000 buses arrive and depart from here every week. There is also a nice bus terminus made here with chairs for people to sit and wait.
Places to stay near
Swargate ST Stand
FabHotel Gandharva Shivajinagar
Reviews of
Swargate ST Stand
•
2
After reaching Swargate via local bus we researched quite a bit. Pan walabhaiyya and Chai tapri uncle told us where to find the bus or the sharing cabs. We found a sharing cab, a Force Toofan . It was jam packed and we were sitting in the middle row, 6 guys on a single seat !! I don't know how everybody managed but somehow all fit in and got comfortable in awkward seating positions.Shirwal
It was 4.45am when we reached Pune. As our bus to base village Velhe leaves from Swargate ST Stand so I took a bus from pune station to Swargate. Swargate is quite popular so one can find numerous mode of transport. It is hardly 15-20 minutes drive from Pune station.
Attractions near
Swargate ST Stand