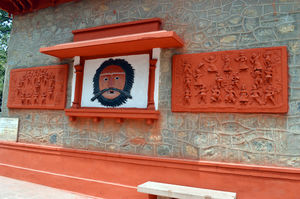 Best time to visit
Make it a point to visit this museum when you are in Mount Abu.
Open hours
The place is closed on Fridays and all gazetted holidays. For the rest of the week it is open from 10:00 am to 4:30 pm.
Things to do
Grab a glimpse of the structures of Devdasi and Nartakis that are from the 6th century AD.
Budget
One would have to contact the authorities here to find out about this.
Museum and Art Gallery
The museum was set up in the year 1962 and is a place of cultural activity in Mount Abu – the only hill station in Western and Central India. The place is divided into two section where the first one houses exhibits of tribal huts and the lifestyle that these people lead. It showcases their musical instruments, pottery, cooking ware, weapons, ornaments worn by the women of these tribes like 'damani', 'guthma toda', 'kanski berla', 'barly', and 'gaga wala thoomar.' It also displays the clothing worn by these tribes. The second section displays paintings that have been inspired by the lain images of Sirohi, the raga-raginins, shields and also has a small canon called 'Topdi.'
Places to stay near
Museum and Art Gallery
Shalin Paying Guest House (HOME STAY)
Hotel Good Luck Residency
Reviews of
Museum and Art Gallery
•
1
This is a cosy display which can be broadly classified into two segments. The first segment carried items from daily life of the locals. The neat display here has a variety of clothes, ornaments, arms and votive items; The second segment has relics from the ancient temples and structures in the vicinity. We saw some magnificent statues of the Gods Shiv, Agni, Vishnu and Jain gurus and apsaras that dated between 8th and 13th century. We were the only visitors and it was quaint that they switched on the lights and fans for us. Tip: A must do for tourists who like museums
Attractions near
Museum and Art Gallery