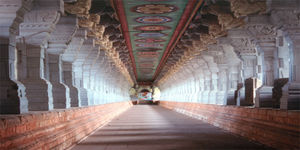 Best time to visit
7:00 AM - 7:00 PM
Open hours
5:00 AM - 12:00 PM and 6:00 PM - 8:45 PM
Rank
1 out of 28 attractions in Rameswaram
Ramanathaswamy Temple
This is one of the holiest Shiva Shrines and is the southernmost shrine out of the 12 lingams of outh India. This is near the Rameshwaram Sethu on the Pamban Island. This is the same place where Lord Rama is said to have performed sacrifice for Lord Shiva to seek salvation after having killed the Demon King Ramana. This is when Lord Rama sent Hanumana to bring an idol of Lord Shiva from Benaras but he did not come on time. So, Mother Sita made a lingam out of sand and this was known as the Ramalingam. This is the main idol in the Ramanathaswamy Temple. The Gandamadam or Hanumaneshwar idol is also inside one of the shrines and the Vishveshwar Linga which was brought down by Hanuman is also there. This lingam is worshipped even before the Ramalingam everyday. This temple is often compared with the Kashi or Benaras Vishveshwar Temple.
Places to stay near
Ramanathaswamy Temple
Jiwan Residency Rameswaram
Hotel Vinayaga Rameswaram
Reviews of
Ramanathaswamy Temple
•
2
We relished a traditional south Indian meal at a local restaurant. We visited the world-famous Ramanathaswamy temple in the evening and enjoyed the classical aarti which includes temple elephants. Religious significance aside, I spent some time appreciating the beautiful architecture. The 1000-pillar corridor was as beautiful as I had always imagined them to be. We then strolled near the beach adjacent to the temple, which, honestly, wasn't a good experience as it was squalid. But there wasn't much to do anyway.
We continued our journey exploring the temples of South India. We first stopped at the Rock Fort Temple, 437 stone cut steps leading up makes for a good work out & a rewarding 360 degree view. Later, we proceeded to the Shr Ramanathaswamy Temple. Flashing saris, intricately carved pillars, colorfully painted Dravidian towers, dancing elephants, rooftops at sunset, wild eyed 'sadhus' (eccentric holy men), fresh flower adornments, potent incense, bare-chested temple priests with their long hair piled atop their heads blessing Hindu pilgrims, intricate statues of deities, beggars with leprosy or deformed limbs; it has it all. Another vibrant example of a living, breathing Indian temple, such as if one could be transported back to the ancient working pyramids of Egypt.
Attractions near
Ramanathaswamy Temple