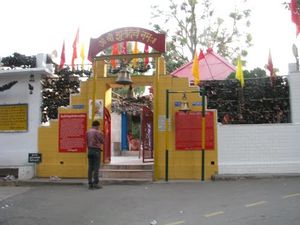 Rank
3 out of 12 attractions in Ranikhet
Jhula Devi Temple
The Jhula Devi temple is a very important place of attraction at the Ranikhet hill Station. It's settled at a distance of seven kilometer far from the city of Ranikhet close to Chaubatia Gardens in Almora district within the Indian state of Uttarakhand. The current Temple complicated was made in 1935. The myriad bells that loiter around the temple compound area unit an affidavit to the divine and also the healing powers of "Maa Jhula Devi" .It is aforementioned that the Temple is sort of 700 years old. Leopards and Tigers accustomed attack individuals and remove their placental mammal, individuals felt scared and therefore prayed to "Maa Durga" for their protection from the harmful wild animals. it's aforementioned that "The Goddess" Ma Durga appeared in a shepherd's dream and asked him to get your hands on a selected place wherever he would realize an idol and she or he wished a temple to be made at that web site.
Places to stay near
Jhula Devi Temple
Kalawati Retreat Eco Village Resort
Reviews of
Jhula Devi Temple
•
3
JHULA DEVI TEMPLE"Jhula Devi Temple" or I should say "Temple of Bells" is situated near Chaubatia Garden almost 9 kms from Ranikhet. Jhula Devi Mata; the goddess of fulfilling wishes. Devotees makes the wish and ties a bell. My mother tooo made a wish and tried a bell (it's still a secret what she wished for.....hahaha).
Remember the movie Vivah...the temple where the actors exchange garlands is here in the Jhula Devi Temple. The temple is situated at a distance of 7 km from Ranikhet. The most distincting and unique fact about the temple are the bells here. It is believed that people whose wishes have been granted by the goddess Durga. they visit the temple and offer a bell to the temple. This offering is done in such a huge number that the priest have to keep removing the old bells to provide place to the new bells daily. The temple is very calm and you will like the ambience here.
This is a famous temple in Ranikhet for its special feature. One should visit the temple after reaching Ranikhet. It is a very big temple. The temple is full of special type of bells. It was stated by priest that any one ties a bells and with a red cloth & thread and wish to get God's blessing, it would be fulfilled. However, we couldn't get the bell to tie but offered puja before reaching the famous orchard and garden.
Attractions near
Jhula Devi Temple