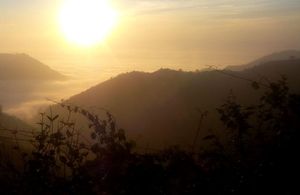 Tape ka Tiba
It has great mythological significance, it is said to be the place where Maharish Jamdagni and his wife Bhagwati Renuka Ji meditated on this hillock.
Places to stay near
Tape ka Tiba
Stella Inn Devicos Renukaji
Reviews of
Tape ka Tiba
•
1
A few hours trek from Renuka Ji takes you up a small hillock that provides you with a breathtaking view of the entire landscape. Buses are available from Dadahu, but hiking the trail is definitely the best way. The forest trail takes you through a variety of flora, small creeks and waterfalls. If you make it on time, be assured of being a spectator to one of the best sunrises you'll ever see.
Attractions near
Tape ka Tiba