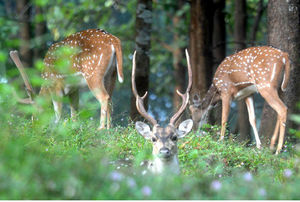 Best time to visit
7:00 AM - 4:00 PM
Open hours
6:00 AM - 6:00 PM
Things to do
wildlife trails, photography, bird- watching
Chail Sanctuary
The former hunting ground of the King of Patiala, this is one of the less popular wildlife sancturaies of the country. Situated in the lap of the Himalayas and a very well maintained place, this place is rich with flora and fauna. The main animals you will find here are the European red deer, goral, Wild Boar, Sambhar, langur, Himalayan Black Bear, Flying squirrel, porcupine and others. The birds that are mainly spotted here are Chir Pheasant, Khalij Pheasant and the Golden Eagles. This sanctuary is a part of the Golden Triangle of Himachal Pradesh and also one of the main attractions. There are however no placs to stay in this place so rich with the blessings of nature.
Places to stay near
Chail Sanctuary
Village Live In Resort Chail
Reviews of
Chail Sanctuary
•
1
It is a perfect place for nature lovers. It spans over 110sq. km area among the hills and is a home to various kinds of animals like black napped hare, Ghoral, Himalayan Black Deer etc.
Attractions near
Chail Sanctuary