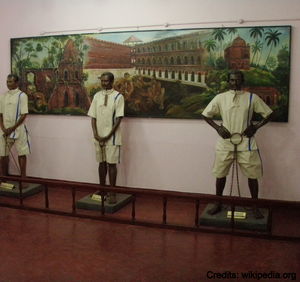 Best time to visit
October through March
Open hours
Except on Mondays, the prison is open all the other days of the week from 9:00 am to 12:30 pm and then again from 1:30 pm to 4:45 pm.
Things to do
Feel the chill and terror as one walks through this place of human torture.
Budget
INR 5.00 is charged as an entry fee. T carry a still camera one needs to pay INR 10.00 and for a video camera, INR 50.0
Cellular Jail
This place is also called Kala Pani and was used as by the British to imprison those Indian revolutionaries who instilled thoughts of a free nation in the minds of the masses during the first war of independence. This place has a reputation of being the most torturous and inhuman of prisons on earth. Rebel from Indian, Karachi and Burma were also exiled here in the year 1896. During World War II, the prison was taken over by the Japanese and many British soldiers were then imprisoned here. The prison walls tell stories of how the Japanese would torture the prisoners here.
Places to stay near
Cellular Jail
OYO 795 Samudra Inn Hotel
United 21 Hotel - Hyderabad
Reviews of
Cellular Jail
•
1
Cellular Jail, the most popular site in Port Blaire, was built by the British to house political prisoners far away from the mainland. All prisoners were kept in isolated cells and subjected to a brutal work regime, with regular whippings and executions. Briefly taken over by the Japanese during WW2, who added outright torture to the palette. Today, however, the jail has been transformed into an immaculately kept national monument complete with a garden that seems very much at odds with the horror of the place.
Attractions near
Cellular Jail