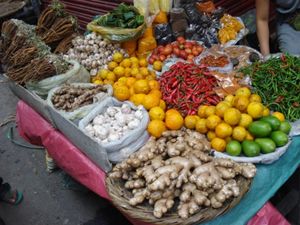 Traveller Types
Couples, Friends
Rank
18 out of 48 attractions in Shillong
Iewduh Bara Bazar
Locally known as Lewduh, this is one of the oldest and largest traditional markets and trade center of the North East India. Most of the shopkeepers here are women and there are a number of monolithic idols of gods and goddesses out here. A number of religious ceremonies are performed here every year and this place is directly managed by the government authorities. The best thing you can shop from here are flat bamboo items such as mats, hats and other decoratives. It is suggested that you do not bargain much out here as the women are poor and they work really very hard with very low sales turnover due to the remote location.
Places to stay near
Iewduh Bara Bazar
The Shillong Hills Guest House
Cafe Shillong Bed & Breakfast
Reviews of
Iewduh Bara Bazar
•
1
Often dismissed by cab drivers or guides as 'just a place to buy wholesale vegetables', this huge local market place, characterised by criss-crossing narrow alleyways, often allowing only one person to pass at a time, is a world in itself. It's a street photographer's dream come true! One can easily get lost in this labyrinth selling all things under the sun for everyday needs, and there are whole alleys specialising in one single product- from obvious fruits, vegetables to kitchen utensils, cane furniture, fish, all kinds of meat, grocery, cloth, sweets. Morning hours is the best time to see all the buzz, consider having breakfast in one of the alleys serving quintessential poori-bhaji.
Attractions near
Iewduh Bara Bazar