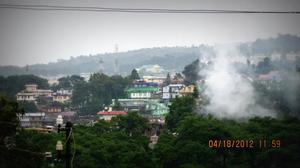 Laitumkhrah
This is a census town in Shillong and the name literally in Khasi means the "Place where the River Umkhrah originates". The place has a number of holiday resorts and the natural beauty and cold weather are in itself reasons enough to spend a day or two here. there are also churches and schools over here along with the Ramkrishna Mission of Meghalaya and the famous Kalpatru Sweet Shop.
Places to stay near
Laitumkhrah
The Shillong Hills Guest House
Ken and Twill Guest House
Reviews of
Laitumkhrah
•
1
Jadoh- You know that a native dish is important to the locals when a whole restaurant is named after it. In no particular order,Jadoh is arguably one of the best places that offer local Khasi food. Always hot and always fresh,it's no surprise that it stays jam-packed by students in almost every hour. Why did I mention just students? Because,prices. With Jadoh,it is possible to get your lunch done for a mere Forty Rupees (yes,I actually said that!). The combos-which,again,come with either chicken,fish,beef or pork-are served at a throwaway price of One Hundred and Twenty Rupees!There's a lot that has already been told about the food quality and unbelievable prices,the humble seating order,but,Jadoh may as well be known for the heart-warming hospitality and warmth of the lady who runs the restaurant,so much so that eating there feels like eating a hearty meal cooked at home. Eating here is absolute peace.Oh,and if you're a vegetarian,have tea.
Attractions near
Laitumkhrah