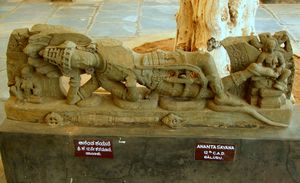 Shivappa Nayak Palace and Musuem Shivamogga
It is basically a musuem made out of the Shivappa Nayaka Palace and was constructed by a person with the same name in the 16th century, it displays many stone carvings and idols in its green lawns.
Places to stay near
Shivappa Nayak Palace and Musuem Shivamogga
Royal Orchid Central, Shimoga
Reviews •
1
The museum adjoining Shivappa Nayaka's palace has some interesting exhibits that have been excavated around Shivamogga in places like Bhadravati, Gurupura, Balligave, Saluru, Basavapatna, Shikaripura, Baruru, Belagutti and Kalkere. Some of the notable artifacts include idols depicting reclining Vishnu, Parsvanatha, Surya, Uma- Maheshvara, Bhairava and Mahisasurmardhini. A number of memorial and Sati stones (stones carved with tales of brave warriors and women who committed Sati) are also displayed in the garden adjoining the museum.
Attractions near
Shivappa Nayak Palace and Musuem Shivamogga