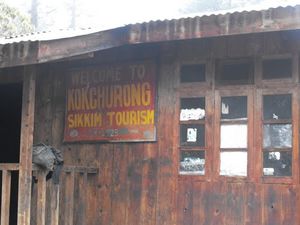 Things to do
Trekking resort
Kokchurong Trekkers Hut Goecha La
The Goecha La is the name of a very high mountain pass in Sikkim and is a part of the Himalayas. The most attractive thing about this place is that you get a perfect, mesmerizing view of the Mt. Kanchenjunga from here. This place is also like a base camp for those who are aiming to scale the high peak of Mt. Kanchenjunga. The Kokjuong Trekkers' hut are permanent tent like things to help out the trekkers a little during their journey. It is not a luxurious living place but atleast somewhere you can escape from the strong winds and get some basic things to eat.
Reviews of
Kokchurong Trekkers Hut Goecha La
•
1
Kokchurang has trekkers hut but not enough space to put up your own tents. The Prekchu River flows next to the trekker's hut about 50 meters far. Banks of the river can be a perfect location to pitch up four to five tents. The space is not unlimited, but you can enjoy yourself in the confined place. As you spend the whole day travelling, give your body some rest so that you can complete your trekking successfully. During the evening, you can hear the water flowing in the river with great speed and various sounds from birds which will turn out to make your complete day more pleasing.
Attractions near
Kokchurong Trekkers Hut Goecha La