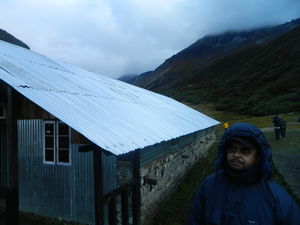 Things to do
trekking, sight- seeing
Thangsing Trekkers Hut
This is a small area and a settlement in the Goecha La. People come here when they want to rest during their trek or travellers who want to enjoy the beauty of the place by taking a little time. They can provide you some basic food and hot water and the huts is otherwise not at all nice. You can otherwise opt for the food from here and stay in your own tents which are quite easy to put up here. Grom here, the closest attraction is the Samiti Lake. This is from where you can enjoy spectacular views of Pandim.
Reviews of
Thangsing Trekkers Hut
•
1
Thangsing is a small settlement on the Goecha La trek. Most trekking groups camp here and some stay for a day to acclimatise. There is a basic hut to stay but its quite badly kept. There is a good campsite here and the tents can be pitched with ease. The next destination towards Goeacha La is Samiti lake. Impressive views of Pandim are on offer along the valley in Thangsing.
Attractions near
Thangsing Trekkers Hut