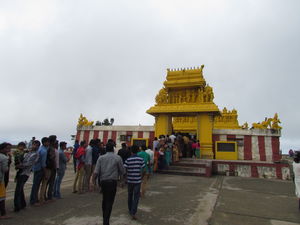 Best time to visit
9:00 AM - 2:00 PM
Open hours
8:30 AM - 4:00 PM
Things to do
wildlife safaris, temple worship
Budget
Rs 25 for 2- wheelers, Rs 50 for 4 Wheelers, Rs 100 for HMV, Rs 200 for LMV
Himavad Gopalaswamy Hills Road
This is a beautiful forest hill station on the Mysore- Ooty route very close to Gundulpet and is also the easiest to reach via Gundulpet. This area is completely under the supervision of the Project Tiger of the Bandipur National Park. Elephants are a common site here so you need to be super aware while travelling. Staying up on the hill at night is prohibited due to the presence of wild animals and food is just not available anywhere here. Alcohol is a strict no out here. You can stay at the forest department guest house at night but they will only provide you with lodging facilities and not food. It is thus better to stay in one of the Gundulpet cottages. The Goddess Sri Chikamma Devi Temple is another attraction out here. Photography is allowed only with prior permission of the forest authorities and also with a forest guide along with you.
Places to stay near
Himavad Gopalaswamy Hills Road
Reviews of
Himavad Gopalaswamy Hills Road
•
1
From here we could see the entire green Bandipur Valley. The sun playing hide and seek with clouds, the mist, so many shades of green where ever you look; it was magical it was heavenly. I just cannot describe in words! But it soon started drizzling and we took shelter inside our car and waited for some time before we return.
Attractions near
Himavad Gopalaswamy Hills Road