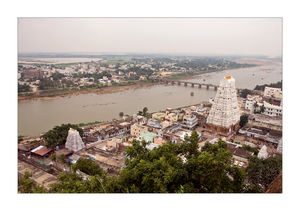 Best time to visit
7:00 AM - 7:00 PM
Open hours
6:00 AM - 8:00 PM
Budget
Free entry, Rs 300 for Rahu Ketu Sarpa Nirvana Puja per person, Rs 1500 for the same puja to be done inside the temple
Rank
1 out of 7 attractions in Srikalahasti
Sri Kalahasteeswara Swami Temple
Located in a town with the same name as that of the temple, it is one of the prime temple dedicated to Lord Shiva in southern India. Trhis is the same place where Kannappa became ready to sacrifice both his eyes to stop the Shoiva idol from bleeding. In the final moment Lord Shiva himself appeared and stopped the incident and granted Kannappa mukti. This is one of the Panchabhootha Sthalams and is known for the Vayulinga oresent out here. The place is a few kilometers away from Tirupathi and was constructed in the 5th century. The outer temple was a 12th century addition by the Chola and the Vijayanagara kings. The temple is also known as "The Kailash of the South" and is famous for the Rahu and Ketu pujas performed here. The initial part of the Kalahasthi Temple which was constructed during the time of the Pallavas was built in their style of architecture but the later part is a fine blend of the Chola and Vijayanagara styles. This style diversity is another reason which makes this temple even more attractive.
Places to stay near
Sri Kalahasteeswara Swami Temple
Reviews of
Sri Kalahasteeswara Swami Temple
•
1
This is the most sought pilgrims and is situated on the banks of Swarnamukhi River. Shiva Linga is worshipped here as Vayu Linga which means air. The reference is worshipping one of the five elements of the universe, Air.
Attractions near
Sri Kalahasteeswara Swami Temple