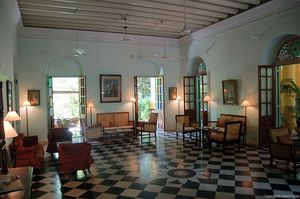 Amethyst
Chennai is rightly a metropolitan city with a number of posh shops and shopping arenas. Amethyst is an all-in-one place to spend time in. This is a haveli- style café along with a flower shop and a clothing boutique. The décor of the shop lives up to the graceful name with the number of crystal and amethyst studded showpices. The classy taste of the owner inspires you to trust them on the quality of things they sell. They also sell all sorts of exotic flowers and bouquets for all occassions which have a special importance for you.
Places to stay near
Amethyst
OYO Flagship 486 Nungambakkam-Greams road-Apollo Hospital
SHADE POINT-Single Occupancy.
Cozy stay near Taj Coromandal Hotel - Room No.2
Reviews of
Amethyst
•
1
Amethyst is a rocking cafe in Chennai. Though a bit on the costlier side, Amethyst provides great quality snacks from pizza, pastries, and coffee. The open gardens provide a pleasant environment for customers to relax in.
Attractions near
Amethyst