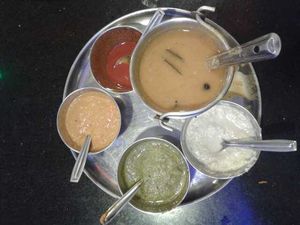 Trichy
Originally known as Tiruchirapally and Tiruchi, this is the district headquarters of the Tiruchirapally District. This is also the geographical center of the state of Tamil Nadu and is crammed up with temples, offices, buildings and a number of other old monuments. This place was once the capital of the Cholas and then moved on to the hands of other dynasties. The rock cut temple is a premiere attraction here. The city has a very good network of transport and other educational systems too. There are a number of restaurants and hotels too in this city.
Places to stay near
Trichy
Hotel Ragavendra Residency
Reviews •
1
Madurai is a 6 hour ride from Pondicherry. We stopped over at Trichy that day. Trichy is an industrial and hospitable city. On the way to Trichy, I actually got my first showers of the journey. I also visited a temple near the city and it was a mesmerizing experience. Time spent at banks of the river Kaveri was a calming experience. It was a slow flowing stream of water with clean banks and sandy bed gave me a different outlook to the usual rivers we see in North India. Trichy's B.H.E.L factory is also a place of mention and visit if one can get the permit.