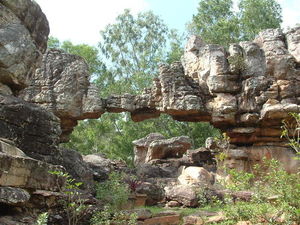 Things to do
sight- seeing, photography
Rank
11 out of 39 attractions in Tirupati
Silathoranam
The word literally means a "Garkand of rocks" in Telegu and it is a natural arch made of a beautiful setting of rocks. This is in the hill city of Tirumalai and just about a kilometer and a half from the Venkateshwara Temple. This piece of geological wonder was discovered by a group of people who came here for the official work of findong out some geological fault. This structure is assumed to date back to more than a million years. Some people believe this is derived from the heads of the huge serpent Adishesha who was also the reason for the seven peaks around. There is at present a park with the same name circling this formation. the park is an ideal place for relaxation amidst the immense natural beauty and the pleasant weather of the hilly region.
Places to stay near
Silathoranam
OYO Rooms Tiruchanur Road
Reviews of
Silathoranam
•
1
It's called the Rock Garden, I am sure the travelers would think of Chandigarh when the name Rock garden comes. So we have one in Tirumala as well. It's actually a geological wonder because the rock makes a natural arch on another rock. The arch is one of the few natural arches or bridges in Asia and will steal your attention for a while. The locals have different stories as the reason behind this but whatever those be, the view is a treat here.
Attractions near
Silathoranam