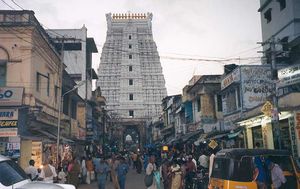 Best time to visit
7:00 AM - 7:00 PM
Open hours
Monday- Thursday- 6:30 AM to 8:00 PM and Friday- Sunday- 8:00 AM to 8:00 PM
Budget
Rs 30 for general Darshan, Rs 100 for Special Darshan and Rs 200 for Darshan including Arti
Rank
2 out of 39 attractions in Tirupati
Sri Padmavathi Ammavari Temple
This is one of the most inportant temples of the holy city of Tirupathi in the Chittoor District and is dedicated to Goddess Padmavathi. A visit to this temple is must on your trip to this region. The temple is old and the walls, ceilings and dome are intricately carved with stone word. The sanctum sanctorium is where the idol of Goddess Padmavathi is placed. The temple is wheelchair accessible and thus a huge advantage for people who are specially abled as well. The time for arti is a visual bliss for all.
Places to stay near
Sri Padmavathi Ammavari Temple
OYO Rooms Tiruchanur Road
Reviews of
Sri Padmavathi Ammavari Temple
•
1
This is the temple of a Hindu Devi, who is a form of goddess Lakshmi. The word Padmavathi is a Sanskrit word that means "emerged from Lotus". This is just 5 km away from the main Bus stand. It's believed that every devotee visiting the Tirupati Balaji temple would complete his journey only when he visits the Sri Padmavathi Ammavari Temple. The temple has a history attached you should check that out as well.
Attractions near
Sri Padmavathi Ammavari Temple