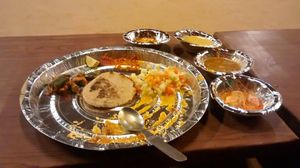 Best time to visit
After sunset
Things to do
Have fun, let loose, and enjoy Rajasthani delicacies
Aapni Dani
This is one restaurant in Udaipur that has a Rajasthani theme and ambiance. Along with some great Rajasthani food, there are cultural shows for which the place is quite renowned. Folk dance, puppet shows and magic shows are also some of the entertainment options, visitors have. There are also shows of kids walking on a rope. The buffet system of food makes it extremely comfortable to eat. However, one thing that you need to know is that the restaurant is a little on the outskirt of the city and takes a little effort to reach. The entry calls for a grand welcome along with complimentary buttermilk. A good way to spend quality 3-4 hours with family or friends.
Places to stay near
Aapni Dani
OYO 9777 Home Duplex Villa Airport Road
OYO 1804 Hotel Zade House
Reviews of
Aapni Dani
•
1
A Rajasthani themed restaurant, where one can get tasty food and various cultural shows like the puppet show, folk dance, hilarious magic show and a show where a kid walk on the rope. It's a buffet system so eat all you can and no one bothers. The place is located on the outskirts and pretty difficult to find but once you enter you will be welcomed by smiling faces with Buttermilk. It's place where one can spend 3-4 hrs easily with family. I don't want to pour in details of the various events but they are definitely worth trying. Next comes the best part, the dinner. Dinner is served at a big hut where one has to sit on the traditional rajasthani mats. Various dishes starting from traditional starters to main course and Dessert all will be served by smiling people. Who will practically force you to try out various dishes. Dal bati churma and Jalebi is the must try. For the diet concious people please avoid this people as these folks will just pour a glass full of desi ghee on the dishes to enhance the taste.
Attractions near
Aapni Dani