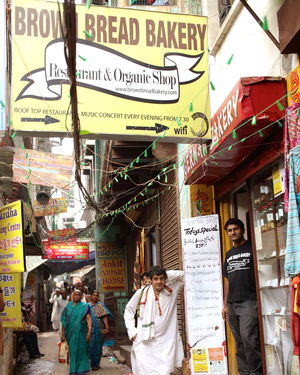 Open hours
7:00 AM - 10:00 PM
Brown Bread Bakery Varanasi
The Bakery was started in the year 2006 as the first organic bakery in Varanasi. This was started keeping in mind the campaign of "Learn for Life- Another World is Possible". In the year 2011, the Organic Bakery Restaurant and the German Bakery were started jointly for public service. The team here tries to use almost 100% farm fresh ingredients in all their bread and food products. The vegetables, fruits and grains are supplied by local farmers who have been certified by the authority. The jams and muesli are made by the women empowerment team on their own. The cheeses are all brought down from Himachal Pradesh, South India, Nepal and Sikkim. They also have an awesome bakery shop where all the ace quality products are offered to the customers.
Places to stay near
Brown Bread Bakery Varanasi
Accommodation, yoga, Volunteer etc
Peaceful Retreat in Kashi
The place near the bank of river
On the river B. kali guest house
Reviews •
1
For the tired Western traveler, there is nothing better than a breakfast comprising of baked goods straight out of the oven. And the Brown Bread Bakery really delivers on that front. Do stop for a bite.
Attractions near
Brown Bread Bakery Varanasi