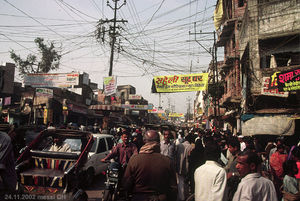 Things to do
Offer a prayer at the Vishwanath Temple and then proceed to have a hearty breakfast of kachoris here.
Budget
One can expect to pay about INR 150.00 for a meal that will suffice two people.
Kachori Gali
Temples, Ghats and kachoris – this is what the city of Varanasi is all about. The best way to get a taste of these delicious fried delights is by paying a visit to the famous Kachori Gali. The lane is dotted with a number of shops complete with large kadhai's (woks) filled with oil, ready to fry a batch of kachoris to golden perfection. The first half of this lane is called Vishwanath Gali due to the location of the temple by the same name. Ask anyone who has been here and they will rave about the hot kachoris that come with a variety of filling and sides like chana and potato curry and tamarind chutney. A word of advice to those who plan to traverse here soon, visit the gali by 7 am as the later its gets, the more the food runs out here.
Reviews of
Kachori Gali
•
1
It maybe 5 in the morning but never too early to have these tempting poori-kachori sabzi on leaf-plates.
Attractions near
Kachori Gali